At Delphi Preschool, we understand just how vital it is to parents for their young ones to be in a safe and caring environment. 
At Delphi Preschool, we understand just how vital it is to parents for their young ones to be in a safe and caring environment. 
Starting An Education The Right Way
Our preschool and childcare is a home away from home and our teachers focus on creating a safe, warm, loving and nurturing environment where children feel secure and loved at all times. This environment makes it easy for children to learn, to make friends and to develop social skills that will empower them for the rest of their lives.
Children are motivated by their own desire to make sense of their world. They learn through interaction with the materials and people in their environment. Play provides this interaction, learning occurs when a child is actively involved. Therefore, we believe in hands-on experience, learning creatively and learning through play.
Delphi Preschool strives to create the perfect safe and healthy atmosphere for your child to learn, play and grow.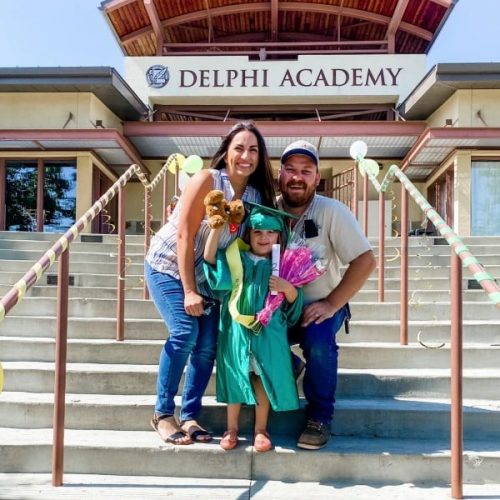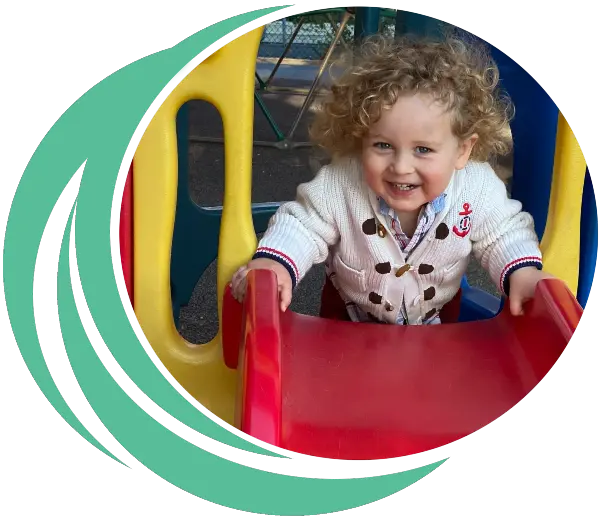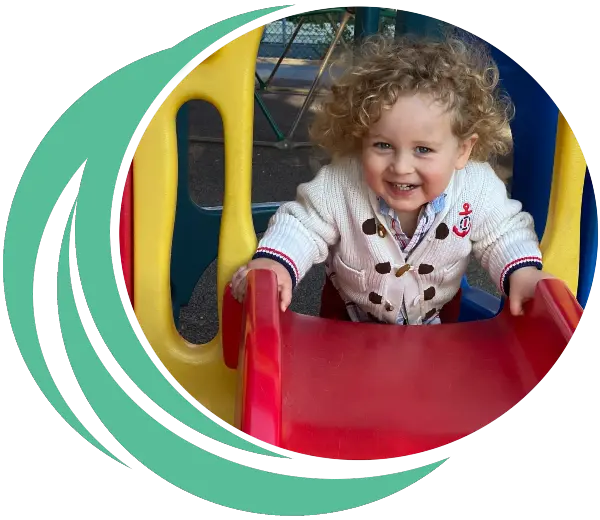 What are we learning in preschool?
Physical Development: Gross motor skills, like balance, exercise, movement coordination, control and ball skills. Fine motor skills, like grasping, hand-eye coordination, drawing, cutting, holding pencil, brush, scissors correctly.
Social Development: Peer interaction (sharing, taking turns, cooperating, following rules in group games). Recognizing feelings of others, respecting others' property, choices and differences, recognizing responsibility to our group, communicating and interacting with other children and adults.
Emotional Development: Verbalizing feelings, accepting failure and trying again, feeling positive sense of self, building self-confidence through positive encouragement.
Aesthetic Development: Providing an aesthetic environment, introducing music and art.
Cognitive Development: Problem solving activities, puzzles, counting games, dramatic play and storytelling, just to name a few.
Math: Identifying shapes, counting, measuring, comparing and describing sizes, putting things in order, creating patterns, classifying, sorting, matching, thinking and problem solving.
Science: Learning about our environment, nature, plants, animals, the five senses, doing different science experiments, taking care of animals and plants in the classroom and in our outdoor garden!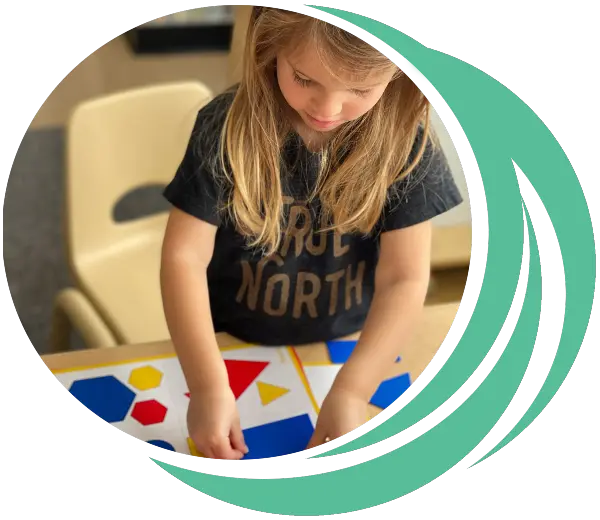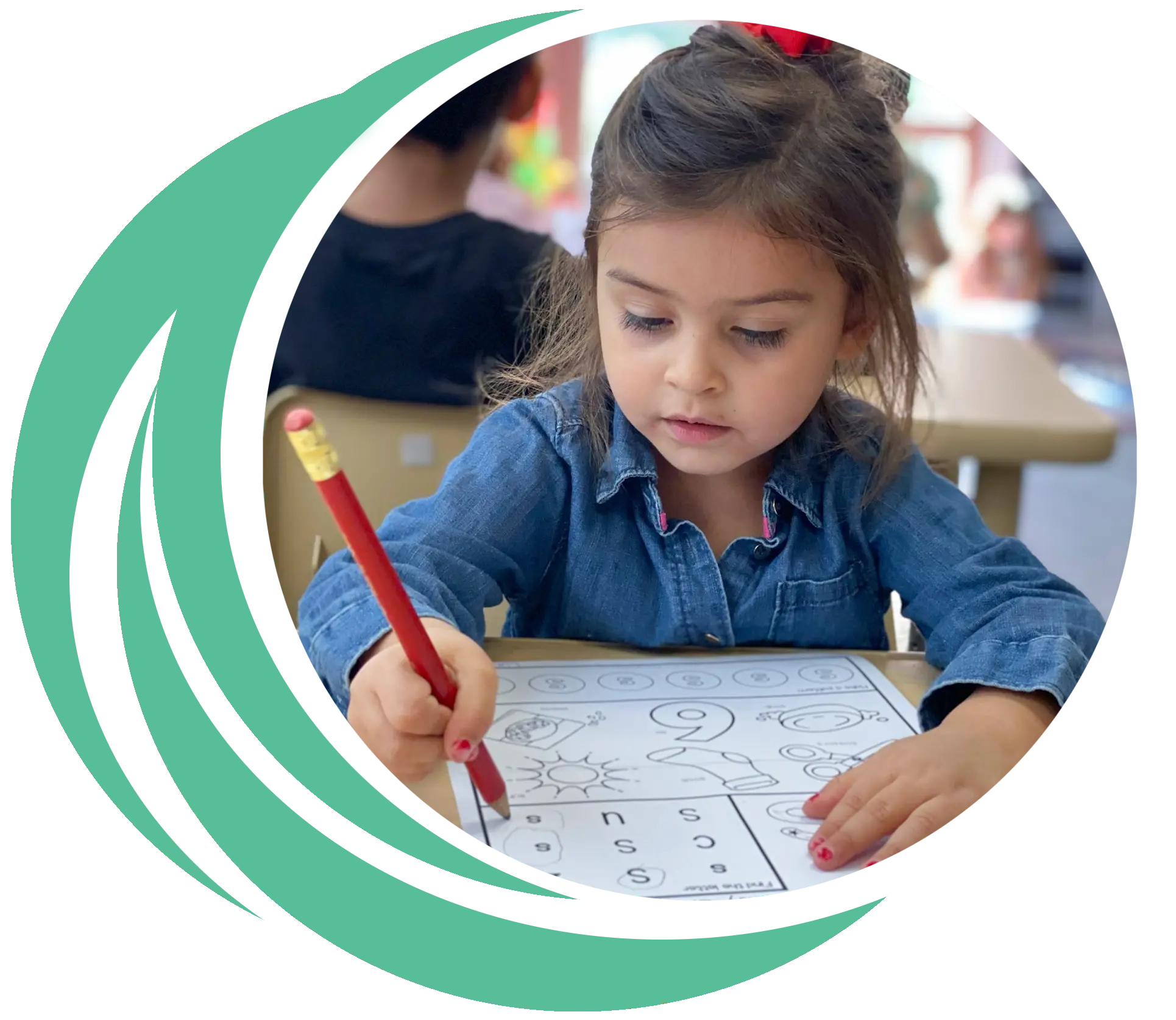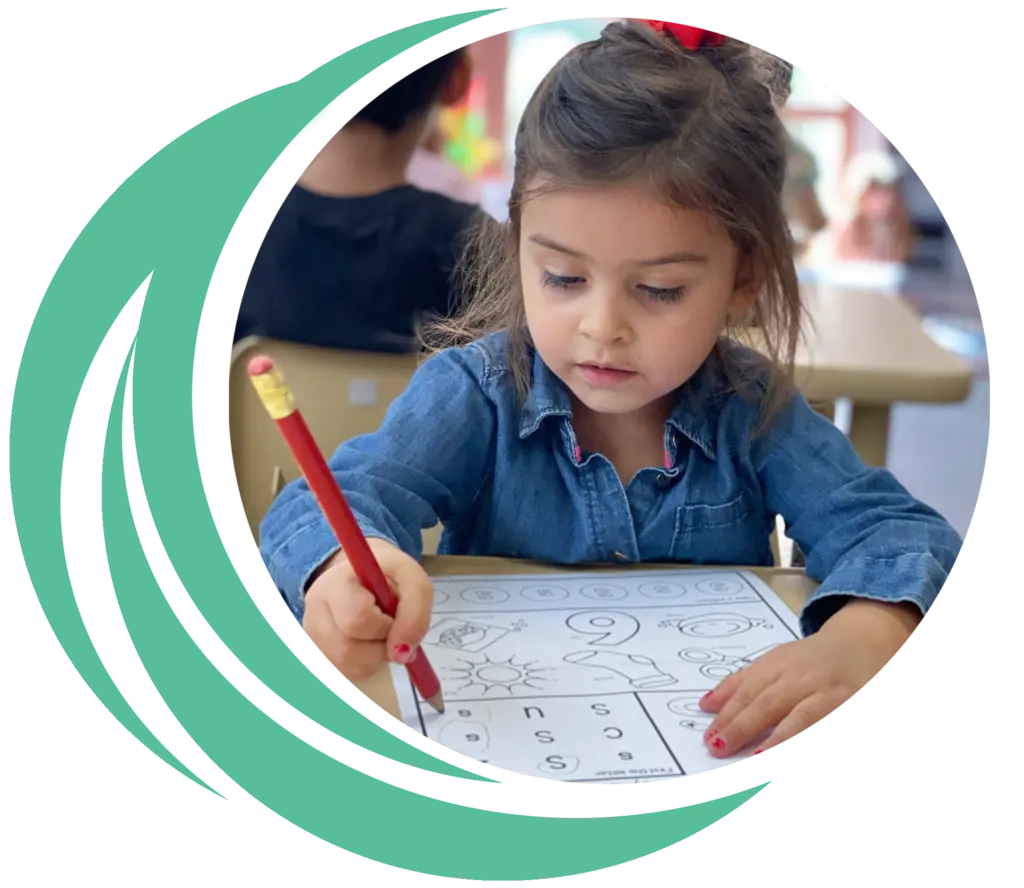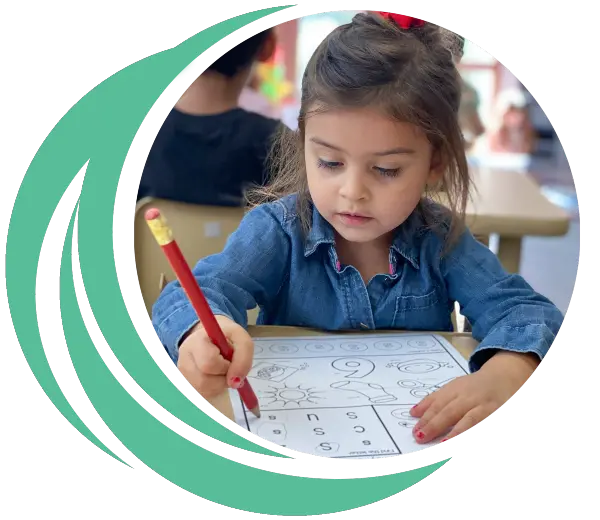 Pre-Reading: Recognizing letters, numbers, telling or dictating our own stories, verbalizing thoughts, memorizing short rhymes and stories, learning to take care of books, and lots and lots of reading.
Pre-Writing: Hand-eye coordination, hammering, beading, cutting, strengthening muscles in their hands with different activities like pegs, Play-Doh & Legos. Drawing lines and circles, coloring, learning to hold a pencil, paintbrush and scissors in the correct position.
Music: Learning to sing songs with melody, tone and rhythm, learning to use rhythm instruments, being introduced to different types of music, learning about famous composers.
Art: Learning to express themselves with art, using their imagination and creativity. Learning different techniques, learning to use pencils, markers, glue, a paintbrush and scissors.
Health & Safety: Encouraging good health, nutrition and eating habits. Practicing fire and earthquake drills.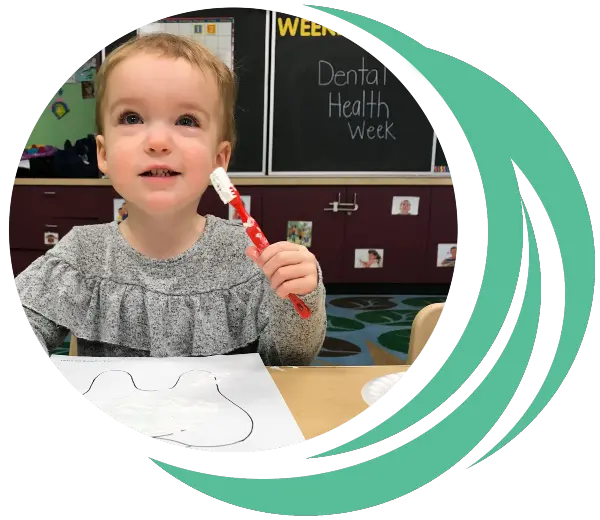 Why are art and music important in early learning?
Art has long been a traditional and important aspect of early childhood development as part of developing the "whole" child. Young children benefit from artistic expression, gaining a sense of satisfaction as a result of the control they have over the materials and the decisions they will make about how to use the materials. When a child decides what he or she will create in an art or crafts project, it may be the first opportunity he or she has to make an individual decision or choice.
Music, like art, is another valuable part of early childhood learning and growth. The primary way in which young children learn about their world is through the magic and imagination of play. Including musical elements in play helps expose children to a richer experience and encourages their natural desire to express themselves through music.
Both art and music are key elements in our preschool program. From string swirled in paint and pressed on paper, to young faces painted like tigers, to the children dancing and singing in a rain dance, there is never a dull moment in our preschool!
Schedule a school tour or request information today.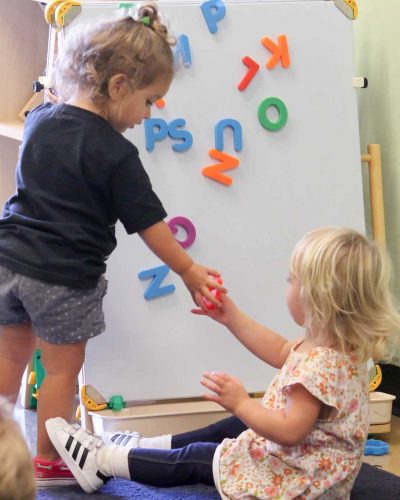 Mini Dragons and Little Dragons         (18 months – 3 years):
Recognizing letters, numbers, telling or dictating own stories, verbalizing thoughts, memorizing short rhymes and stories, learning to take care of books, and lots and lots of story time.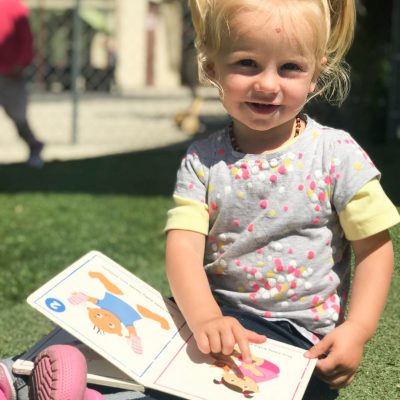 Junior Dragons (3-4 years): Reading readiness is established through familiarity with letters and words. Vocabulary is built in both phonetic and sight words. The student learns to read high pre-primer level books aloud, comfortably and with comprehension.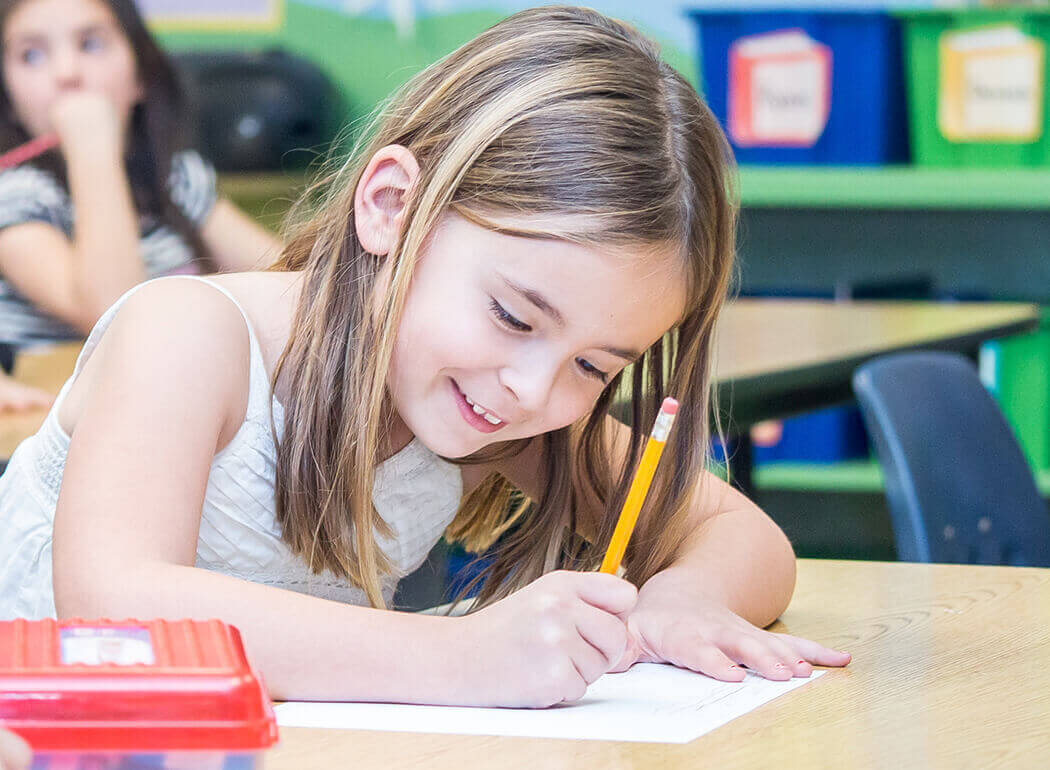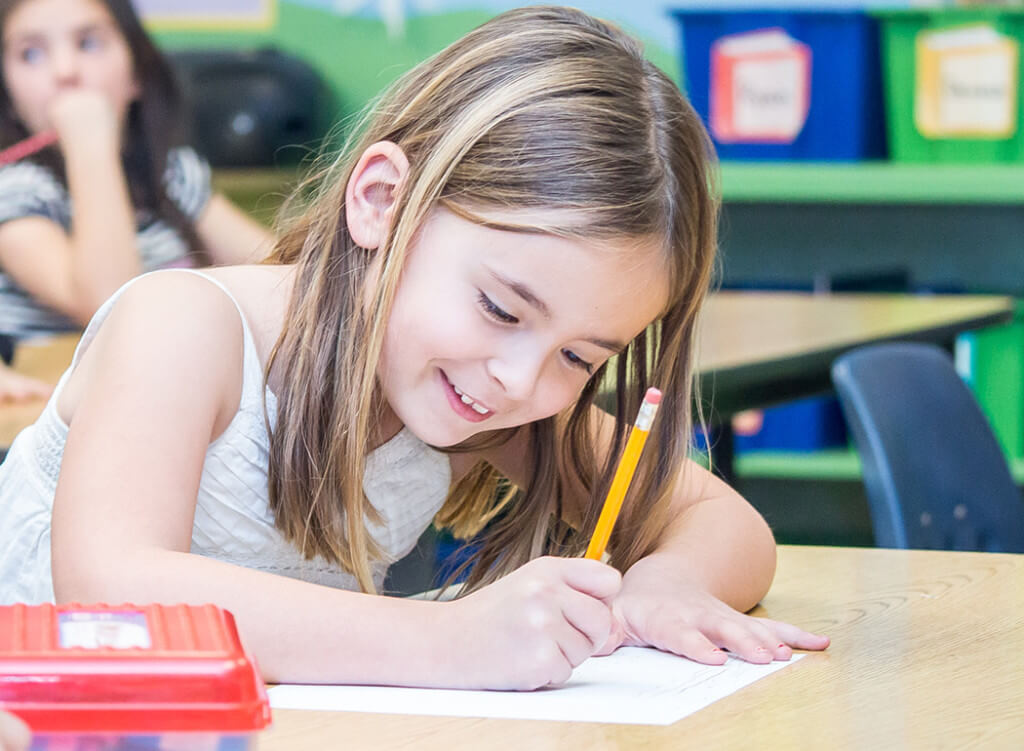 Big Dragons (4-5 years): The focus is on both reading in volume and phonetics. The student works on phonetics and learning letter sounds and combinations. Emphasis is on decoding the written language. The student experiences the pleasure of reading through structured, high-volume reading in primer books in a very gradual sequence of increasing difficulty. With an emphasis on comprehension, the student works on both reading aloud and reading silently.
11341 Brainard Ave. Lake View Terrace, CA 91342 United States
Monday – Friday
8:00 am – 4:30 pm
Closed on Weekends
To schedule a tour of the campus activities call or email us.